Patty Yeager, founder of Bring Me Your Bins, feels your pain.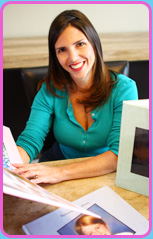 Patty, a mother of four children, faced the same dilemma you face. She was overwhelmed by a flood of bins and boxes and bags containing precious memories, her children's art, their schoolwork, certificates of achievement, and more. A lot more.
That's when Patty discovered the magic of photobooks! She realized that others could benefit from this way of saving childhood memories, and now makes this service available to others.
Patty loves helping other parents get organized. She is hands-on with each and every photobook project she takes on.
Patty Yeager holds a Masters Degree in Business Administration, and formerly worked in the financial services industry. She left a lucrative job to spend more time with her children, and now enjoys exploring new ways to use technology and innovation to create keepsakes to last a lifetime.
Chat with Patty for five minutes and you'll see that her enthusiasm is contagious!