Simply stated: We'll take precious mementos and turn them into gorgeous, professionally-designed, built-to-last photobooks.
Once you provide us with your bins or boxes or bags or stacks of goodies, we'll work with you to decide which items should appear in your photobook. You can be involved as little, or as much, as you'd like.
Next, we'll give you some ideas about the size, style and "theme" of your photobook. Every child is different, so it's important to customize your book to suit your child's personality.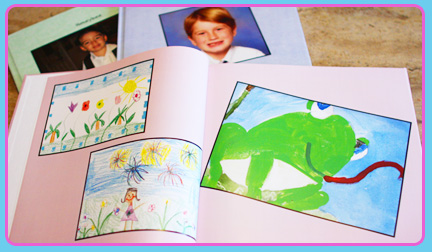 Once we have an idea of the scope of your particular project, we'll make sure you know exactly what it will cost. No surprises, and no hidden fees or charges.
You give the thumbs up, and we'll take over from there. We meticulously scan and photograph your items. If there's specific text you'd like to accompany a given image, just put it on the back of that item. If there's a certain order you'd like your images to appear in, just place the items in that order.
The whole idea is to make this process as painless as possible! You'll soon have your storage space back, and a photobook to show off to friends and family, and pass down to your children and their children.