We love hearing from our happy Bring Us Your Bins customers. Here are just a few of the notes we've received from thrilled parents.
"I can see my garage floor again! Amazing."

~ Happy parent of a 3-year-old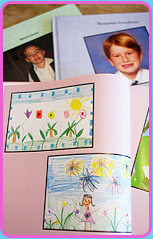 "When I first saw my photobook, I cried like a baby. I thought my husband would tease me, but then I saw him crying like a baby, too."
~ Satisfied clients, parents of a 5-year-old
"You can't put a price on memories."

~ Grandparent who purchased a photobook as a holiday gift
"We got photobooks for both sets of grandparents, and ever since, no conversation has passed without them talking about it! Finally, they're talking about something other than their aches and pains. Thanks for being so great to work with."

~ Parents of a 6-year-old and 2-year-old
"No more mess. You rescued us from being buried in paper and artwork. We can't thank you enough."

~ Parent of a 4-year-old
"It's funny. We do everything we can to give our kids the best. But when it came to their artwork, we stuffed their work into boxes in the garage. Ridiculous! Look forward to hearing from us every year from here on out."

~ Parent of a 2-year-old