Children are only children once, and their schoolwork, drawings, progress reports and certificates of accomplishment are a wonderful way to remember this all-too-fleeting time in their lives.
Parents often store these important keepsakes in the best way they can, in bins. But papers yellow. Artwork degrades over time. Things are lost, damaged by water or fire or time.
Bring Me Your Bins has the solution to this unfortunate dilemma. Now you have the option of cleaning out the clutter, guilt-free!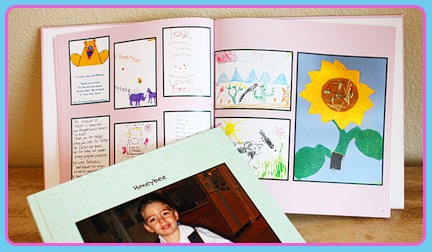 A photobook displays your child's work, all in one place. An entire year of keepsakes appear in rich, colorful images, in one compact, durable photobook. Get the peace of mind that comes from knowing your memories are safe and sound, while freeing up that precious storage space, too.
A photobook from Bring Me Your Bins has additional benefits, of course. It's nearly impossible to bring your bins of memories to a grandparent's home or retirement community. With a photobook, you're mobile. Given as a gift, a photobook can provide endless hours of conversation and reminiscences for loved ones and family, near and far.
Remember, once your photobook is created, the cost of duplicate copies decreases (you're only charged for our services once).
Why a photobook? Because you care. And memories matter. A school year may last a year, but memories last a lifetime.