An investment in a Bring Us Your Bins photobook is an investment in your family, in your child and in your sanity! Get rid of the clutter and chaos (and bins), guilt-free.
We keep our costs low, so you'll only be charged for the actual cost of your photobook from a third-party printer with whom we've worked extensively, plus a design, scan and design fee (of $1.50 per item).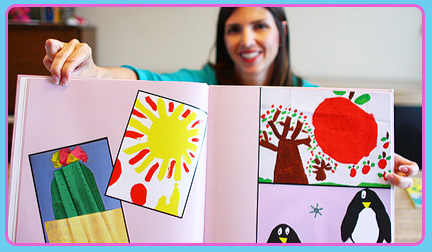 It's that easy! You decide how big your book will be, so you decide how much it will cost.
Here are the prices for the photobook printing component of your project:
12-Inch x 12-Inch Photobook
Photo Cover, $54.99
Padded Photo Cover, $64.99
Leather Cover, $69.99
8-Inch x 8-Inch Photobook
Photo Cover, $29.99
Padded Photo Cover, $34.99
Leather Cover, $39.99 (no photo on back or spine label)
8.5-Inch x 11-Inch Photobook
Leather, $39.99
Suede, $29.99
Satin, $29.99
Cloth, $29.99
These prices are for books up to 20 pages in length. Each additional page costs $1.50 (just $1 per additional page on the 8.5-Inch x 11-Inch book). There is also an additional cost for shipping, handling and taxes from the printer.
The design and scan fee of $1.50 per item includes:
Pick-up and drop-off of your items
Preview scan and cropping
Final scan
Photography of larger items
Editing and optimization of images
Layout and design of your book
Final review
Oversight of photobook printing
Photobook delivery
The maximum book size is 100 pages. A 100 page book holds 225-250 items.
So, as an example of what your book might cost, for 100 items, the book would cost $150 (that's 100 items at $1.50 per item) plus the cost of the book (as provided above) as well as a minimal shipping, taxes and delivery fee.
If your book includes digital photos, the cost per image is .50. (Digital images still require review, sizing, optimization and placement in the book.)
If you have any further questions about the pricing structure for your photobooks, just let us know, and we'll be happy to help.